Last week I shared 5 pieces worth investing in this fall. They included staple basics that can be worn with multiple outfits, fabrics that are high-quality, and fashions that won't quickly go out of style. This week I'm offering you the opposite: the fall fashions you should buy for less! These are the pieces that will add an updated flair to your wardrobe, but won't see a lot of wear or might be out of style by next year.
1. Scarves
Adding a scarf is one of my favorite ways to complete a fall outfit. It's warm, cozy, and can take on so many different looks. I like having a lot of scarf options, so I think this is one thing you shouldn't spend a whole lot of money on. The less you spend, the more you can buy! When you're shopping for cheap scarves, look at the material and read the reviews. Make sure it's not something that will immediately pill or fall apart. Below are a few of my favorite options for scarves, all for less than $15. Amazon is a great place for accessories like this! Click the picture to shop.
2. Velvet
Velvet is one of the biggest trends we're seeing this year. It's one of my favorites because of its luxe feel. And it's super simple to incorporate into your outfits for that stylish edge. Replace your leather jacket with a velvet one, wear a velvet skirt to work instead of a plain pencil skirt, or accessorize with velvet touches. I wouldn't recommend spending tons of money buying velvet everything though, because this trend may very well be over by next fall. Instead, purchase small pieces that still make a statement, like a purse or hat. Or, if you want bigger ways to incorporate this trend, find cheaper alternatives like the ones linked below!
3. White Boots
Statement shoes are big this fall and winter. Think embellished with pearls or sequins, bright colors, and new textures. One of the easier trends to wear is white boots. The most popular ones are patent leather with a square block heel. They have a sleek look and a very fun 70's vibe! They draw a lot of attention so they're probably not something you'll be wearing daily. Use them for a daring look for a night out or pair them with other fall trends for a fashion-forward party look. If you're interested in trying out this look, I've given some inexpensive options below!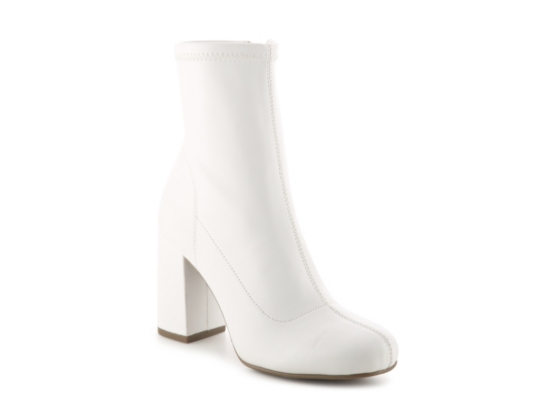 4. Trendy hats
I love hats for fall and winter! Such a cute functional addition to an outfit! Because they're an accessory, don't feel the need to spend a lot of money on them. You can find perfectly good substitutes for much less money and you'll still look super cute! Floppy wool hats are still in, and this year we're seeing the addition of newsboy caps (also called fiddlers caps), berets, and western-inspired hats.
5. Pajamas and Lounge Wear
By far my favorite part of cold weather is snuggling up in comfy clothes! I always have fun buying pajamas, sweatshirts, and other lounge wear. And I really love getting into the fall spirit by finding ones that are season appropriate! Here are a few that won't break the bank.
I hope this inspires you with inexpensive ways to fill in your wardrobe this fall! Happy shopping!